Ah, Halloween! Costumes, spooky parties, seasonal decorations and more. It's a much needed opportunity to bring whimsy & mystery to life, and a sure-fire sign that Fall is in full swing. Unfortunately, as with any holiday, it's easy to get wrapped up in the consumerism surrounding the event, and lose track of the principles of sustainability that we all strive to uphold. Here you'll find our favorite tips for keeping halloween fun and sustainable for everyone, including Mother Nature.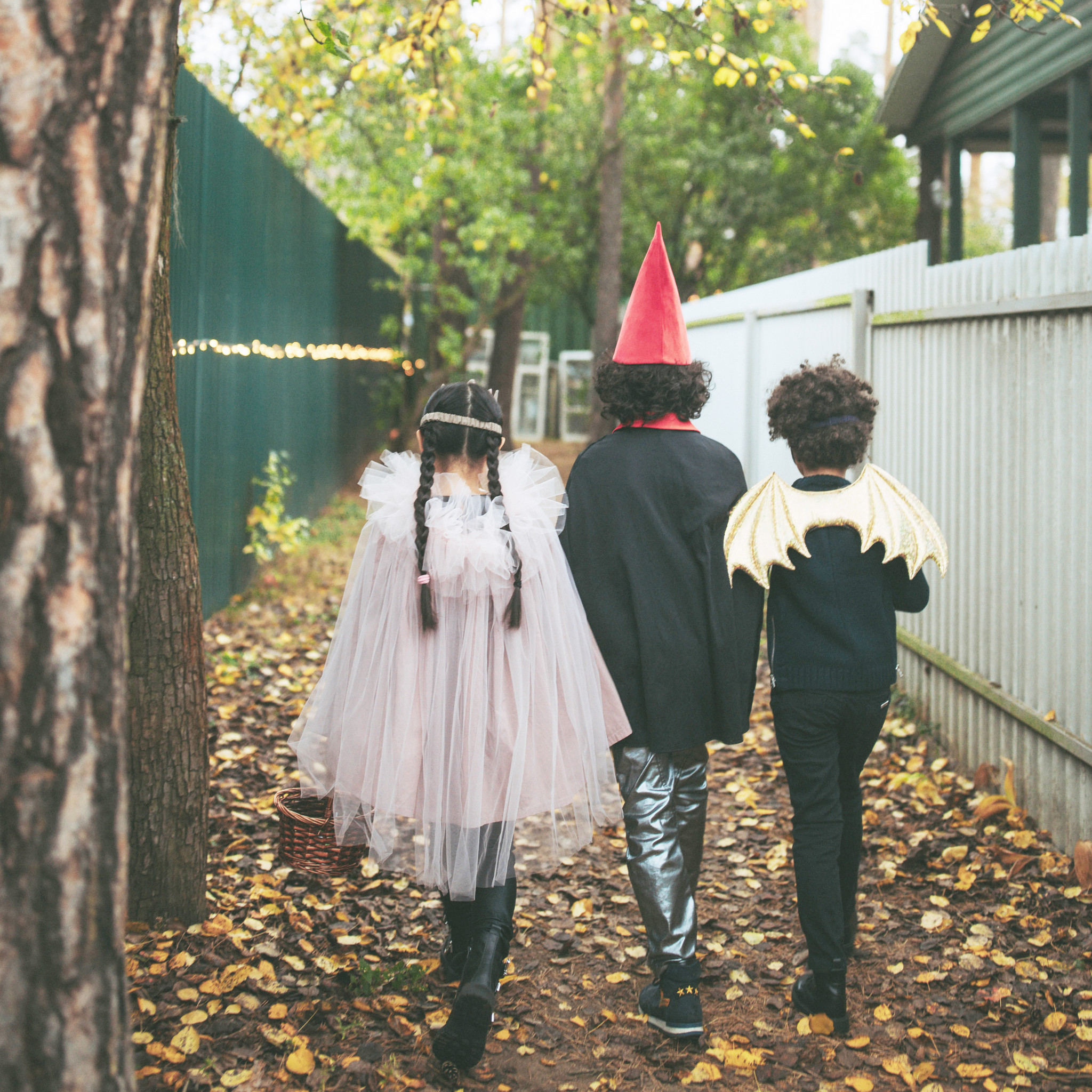 First things first: Costumes!
The internet is rife with great costume ideas that avoid creating unnecessary waste. Depending on your style and the level of effort you want to put in, there's DIY, second hand, borrowing from friends, and even costume renting!
If you decide to go the DIY route, we recommend starting in your closet to see what you can use that you already have. Although there are many, many options out there, here are a few easy ideas ones we're almost sure you can throw together no matter your wardrobe:
Tourist: Grab your loudest button up, a pair of khaki shorts, a bucket hat, sandals (don't forget the socks) and you'll definitely look the part. Add a bulky camera (easily thrifted) to hang around your neck and throw some old-fashioned zinc on your nose and you'll be ready for any halloween event.
Scarecrow: A plaid shirt & denim overalls or jeans form the base for this easy & eco-friendly costume. Add a straw hat (the more beat up, the better) and some face makeup, and you're all set!
Witch: A classic for a reason! All you need is a casual black dress, some black shoes, and a cinnamon broom to give the general idea of a witch. Add a hat (we recommend something that will last many seasons over the cheap vinyl ones) and get ready to spook up the night!

Decorations:
Of course, part of the fun of Halloween is seeing all the quaint and spooky decor. Our favorite options avoid plastics and flimsy, single use items, instead opting for cute curiosities that can be used again and again, or that can be safely recycled or composted at the end of the season. 
Crepe paper garlands are always a hit, and can be hung in your windows and over doorways to great effect; add a few construction paper bat cut-outs and you'll be ready to impress any party goers or trick-or-treaters that you may encounter. 
Pumpkins are a necessity for any halloween decor! To keep the carbon footprint down, it's best to source locally grown pumpkins and gourds from your local pumpkin patch or farmer's market. Whether you're carving jack-o-lanterns, or creatively displaying a gaggle of gourds in front of your home, we have tips to make the most of these delightful decorations.
Uncarved pumpkins can be used after the holidays to make a versatile pumpkin puree which can be frozen for future use in all manner of tasty fall treats, from savory soups to sweet pies! If cooking isn't your forte, fret not! This puree can also be used in a variety of DIY beauty products.
If none of that appeals, there's always pumpkin donation. Many zoos and wildlife rescues will accept whole, uncarved, unpainted pumpkins for use as a special snack and fun enrichment activity for all manner of creatures that they care for. 

Last but not least - Candy!
When it comes to candy, a certain amount of waste is unavoidable; individual wrapping is a must to keep things safe and healthy for kids (and adults) that indulge in these tasty treats. However, there are some options that are clearly superior when it comes to sustainability. If you're planning on handing out candy this All Hallows Eve, here are a few lower-impact options to check out!
Equal Exchange Chocolate - Fair Trade chocolates made with organic ingredients and cacao sourced from democratic co-ops working on small-scale farms.
Glee Gum - A natural chewing gum made without preservatives, artificial flavorings, colorings, or sweeteners. It is one of the only Non-GMO Project Verified gums on the market!
Fruit - A most natural option! Fruits like pixies come wrapped up naturally, and make a great alternative to candy to hand out on halloween night. There are also a variety of fruit leathers with a sustainable bend available!
YumEarth Organic Lollipops - Delicious, organic and free from high-fructose corn syrup, artificial colors & flavors and  common allergens like nuts, these will be a hit among children and parents alike!
We hope that these tips will help you to have a Halloween that's not only fun, but also a Halloween you can be proud to say is good for our planet, too!
Happy Halloween from The Refill Shoppe!