Who
Hi, I'm Michelle Stevens, Founder & CEO of The Refill Shoppe®. I became a small business owner because life is short and I wanted to put my life energy into something I believed in, something that was bigger than myself. Ever since I was a child growing up on a sailboat on the bayou, I have felt a deep connection to the earth. I even created the winning Earth Day T-Shirt design at Conservancy Camp one year. When I finished college and was deciding what was next, I had this wild idea for The Refill Shoppe® and couldn't find anyone doing anything like it so, I decided to leap into entrepreneurship. And now, at over eleven years in I am seeing how this path is so perfect for me because it combines my love of ideas and innovation with trying to make a difference for the future of the planet.
What
Ever-evolving & always innovating, The Refill Shoppe® is an eco-awesome retail solution for the modern day. Combining over 50 unique (and often customizable) bulk bath, body, home & cleaning products with loads of vetted reusable swaps & cherry-picked bath products creates an authentic, approachable & enjoyable experience to help people live more sustainably.
When
Founded in 2010 when internet searches for refills only led to printer ink cartridge sites!
Where
Beautiful downtown Ventura on the sunny side of the street. If you are visiting us from out of town we highly recommend spending the day strolling down Main Street, the pier and the promenade; then heading up to Grant Park for the sweeping vistas!
Why
Often the most important of the W questions is the why, wouldn't you agree? The Refill Shoppe® works to create positive impacts in several different ways. First and foremost, we are an eco-friendly business trying to help individuals reduce their waste and live more sustainably in a way that is both fun and inspiring. We do this through the products and services we offer as well as through our social media channels where we try to share tips and ideas to help people think about things in a new way.
We are also a Certified B Corp and 1% For the Planet Member. Thanks so our 1% FTP commitment we have donated 1% of all revenue to environmental non-profits every year we have been open (over $20,000). We have been a Certified B Corp since 2015 and love that it gives us a way to incorporate our ethos into our business DNA. In short, being a B Corp means that we are committed to caring for people & the planet in addition to profits and we take this very much to heart. We care deeply about the environment both locally & globally. And we care for our employee's well-being, our customer's happiness and the success of our community as a whole.
The Refill Shoppe® was designed in response to the mounting issues relating to plastic pollution, overflowing landfills, recycling expectations vs realities, the list, unfortunately, goes on and on. Single-use culture is destructively pervasive and it is having devastating impacts on our environments on every level and scale. We simply can't keep mindlessly consuming as the systems have been designed and the rate we have been.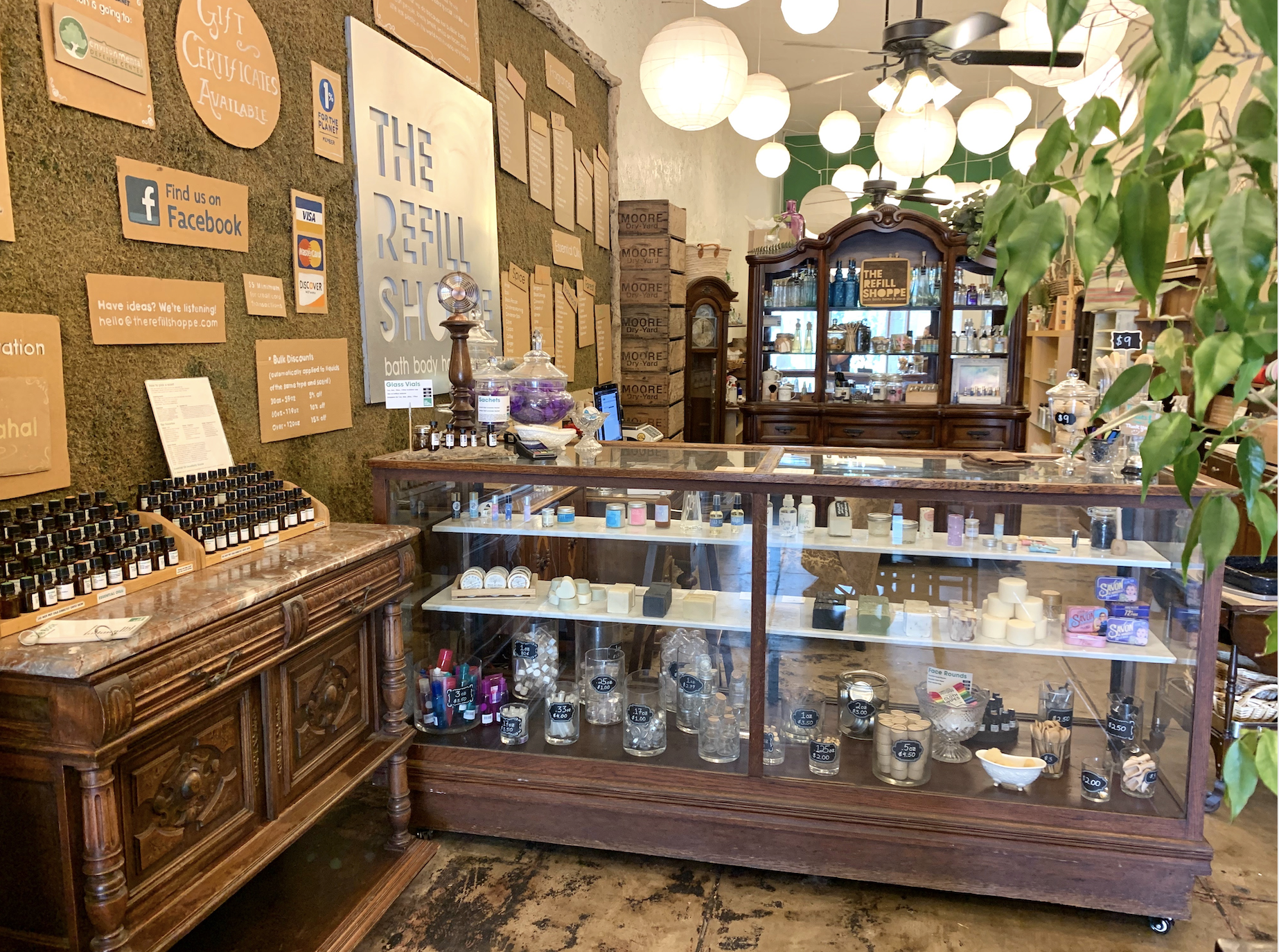 The Problem
According to Frontier Group, the U.S. produces more than 30 percent of the planet's total waste, though it is home to only 4 percent of the world's population and containers and packaging make up 29.7% of all of that trash.
Despite what the old recycling narrative has taught us, plastics is a top-down problem. Unless we stop producing single-use plastics at our current rate, we will never end plastic pollution. (
earthday.org
)
When recycling first hit the scene in the '70s and '80s, things were different. America's recycling system was multi-stream, meaning different recyclable materials went into different containers. People spent more time sorting recyclables, washing glass bottles, removing labels and ensuring their blue bins were free of food waste. At the turn of the century, that all changed. China was a booming manufacturing market and needed all the raw materials it could get, so the country took all our recyclables, regardless of quality. This demand, combined with China's lax environmental regulations, shifted global recycling from multi-stream to single-stream. People put all their recyclables — glass, paper, plastics, food scraps, pizza boxes, Styrofoam, whatever — into one bin, which waste companies collected and sent to China for a hefty sum. With all this plastic coming into China, trash islands popped up, waterways and oceans filled with plastics and animals made snacks out of bottlecaps and bags.
Meanwhile, countries like the U.S. ignored it. They kept collecting whatever passed as recycling and shipping it to the other side of the world. Out of sight, out of mind. That all stopped in 2018, when China, eager to address its environmental problems and improve its public image, abruptly banned plastic imports of anything with more than 0.5 percent contamination. America's current recycling contamination levels are 25 percent meaning one of four items in our recycling bins shouldn't be there. In other words, when China stopped accepting our poor recycling habits, we were left holding the trash bag. (
earthday.org
)
Waste is an extremely serious, growing problem and single-use plastic is equally massively concerning. Unfortunately recycling, particularly for plastics, is no longer a viable solution.
The Solution
Waste reduction at every turn and long-lasting reuse is the solution to these mounting problems and that is exactly what the ever-evolving & always innovating, The Refill Shoppe® is focused on. Truly an eco-awesome retail solution for the modern day, we provide over 50 unique (and often customizable) bulk bath, body, home & beauty products to enable and encourage individuals to easily reuse the perfectly good containers they already have.
We also take seriously being part of our community, whether it's partnerships with local environmental nonprofits, collaborations with other local small businesses or connecting with our customers we love to work together.
But, I'm most proud of living up to the idea behind the scenes. Here's some of what we do to achieve that:
Every kWh of electricity we use is a kWh produced and put on the grid by a pollution-free renewable source through Arcadia Power.  We use over 90% LED light bulbs and we turn most of them off during hours of non-operation. We have employees that walk to work and we encourage the others to carpool. We have the computer/register on a timer so it automatically shuts down at night. Energy Star appliances. We do not use any heat or air conditioning. We use rechargeable batteries and real towels instead of paper ones.
We are always looking for new ways to divert trash from the landfill and we believe reusing is better than recycling, which is why we go the extra mile to get as many materials reused as we can. We compulsively save all cardboard boxes and packing materials we receive to use for shipping out orders, and we give the extra materials to customers or Craigslist users for reuse. We even just started shredding all our junk mail to use as packing material for shipping out orders! The buckets our bulk items come in are given to a local painter who would have to buy new ones if it weren't for us. He even gives them to someone else when he is done with them. Additionally, we use second-hand furniture, recycled and reclaimed materials to decorate our large shoppe and windows. Due to our diligence, we have a limited amount of recycling that is actually produced. Both our trash and in-house unicycling bins are clearly labelled with lists of what should go in each one. We understand that putting non-recyclables in the recycling bin is detrimental to the recycling process. The owner and an employee even toured the recycling and waste management center to better understand and educate customers and employees in the future.
We provide reusable plates, mugs, cups, bowls and utensils for employees. We also avoid using printed materials for marketing. We feel that mailers and flyers can be a big waste of paper. Our printer paper and business cards both utilize 100% recycled content. We also direct customers to our website for information as opposed to printing materials for them to take home. We collect credit card signatures and send receipts digitally. We even reused some of our boxes to make the signage for behind our counter. We also work to avoid ordering things that come in plastic bags.
We seek out suppliers that support under-represented populations, maintain ethical business practices and/or use recycled content in their products. We use the same non-toxic & biodegradable cleaners we offer to our customers to clean our own space. We use brooms to sweep. We work hard to live up to our own ideals. We regularly analyze how we are doing things to decide if there is a better way. We love helping to keep plastic bottles and containers that still have a life out of our waterways and landfills.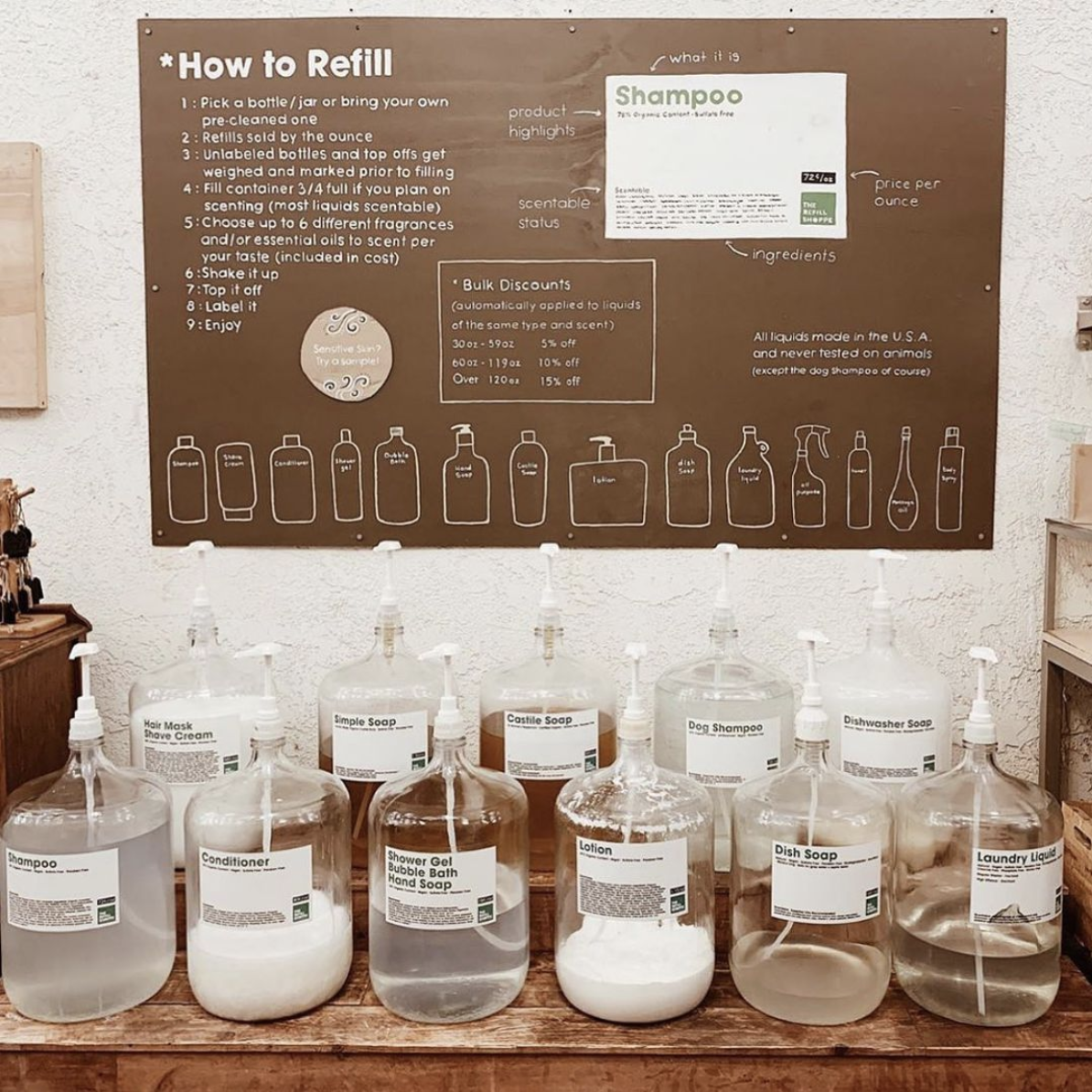 The Results
All of our revenue is proof of our solutions, everything we provide is directly related to our goals and solutions. New containers that are refillable, refills in any clean & dry container, reusable swaps (water bottle, sandwich bags, etc.), even thoughtfully/minimally packaged bath goodies help to get these everyday items to consumers in the best possible way.
Conservative refill estimates:
500,000+ refills in-store
30,000+ online refills
Single-use items are replaced by the lovely vetted reusable items we offer like water bottles, straws, sandwich bags, to-go containers, shopping bags, utensil kits, etc. And all the plastic-free, often biodegradable versions of everyday plastic things we carry such as kitchen sponges, kitchen scrubbers, bottle brushes, dish brushes, floss refill packaging and so much more. We have easily kept millions of items out of landfills since founding in 2010.
The true accomplishment of The Refill Shoppe® is the shift it has enabled within its customers & clients mindsets. By making it easy to be eco they are helping people adopt more and more sustainable habits. Customer feedback like this is one of the best quantifiable results though: "Since refilling & finding sustainable product swaps is so easy at The Refill Shoppe® I have started pushing myself past reusable bottles, bags & straws to even bigger fish like riding my bike more and composting!"
Most exciting is our next big innovation that is already in R&D! Innovation and driving the ideas forward in a way that is beneficial for all stakeholders is our number one passion.
Eco made easy. For everyone, through true, ethical, thoughtful sustainability.
We're all busy and nobody is perfect that is why we set out to make sustainability simple, fun and easy. We offer soaps, creams, serums, scrubby and practical things, all as eco-friendly as possible. Combined with the loads of vetted reusable swaps & sustainable everyday items. We offer simple solutions to the single-use plastic needed for individuals to acquire bath, body, home and cleaning liquids, powders and salts. In addition, we offer further solutions such as reusable water bottles, coffee mugs, lunch containers, utensils and so much more. We encourage customers to bring in containers they already own and we have refilled over 100,000 containers so far!
We continue to push the boundaries with our new, excitingly innovative refill pouch Sudscription® program that allows us to ship zero-waste refills right to eco-people's doors all over the country! We pack the refill pouches up all safe and sound for shipping using 100% reused packaging materials. Then, when the pouch is empty, customers simply pop it in the mail to return it, utilizing the pre-paid postage envelope. Once back at the shoppe, we refill it, custom scent it and ship it right back to them!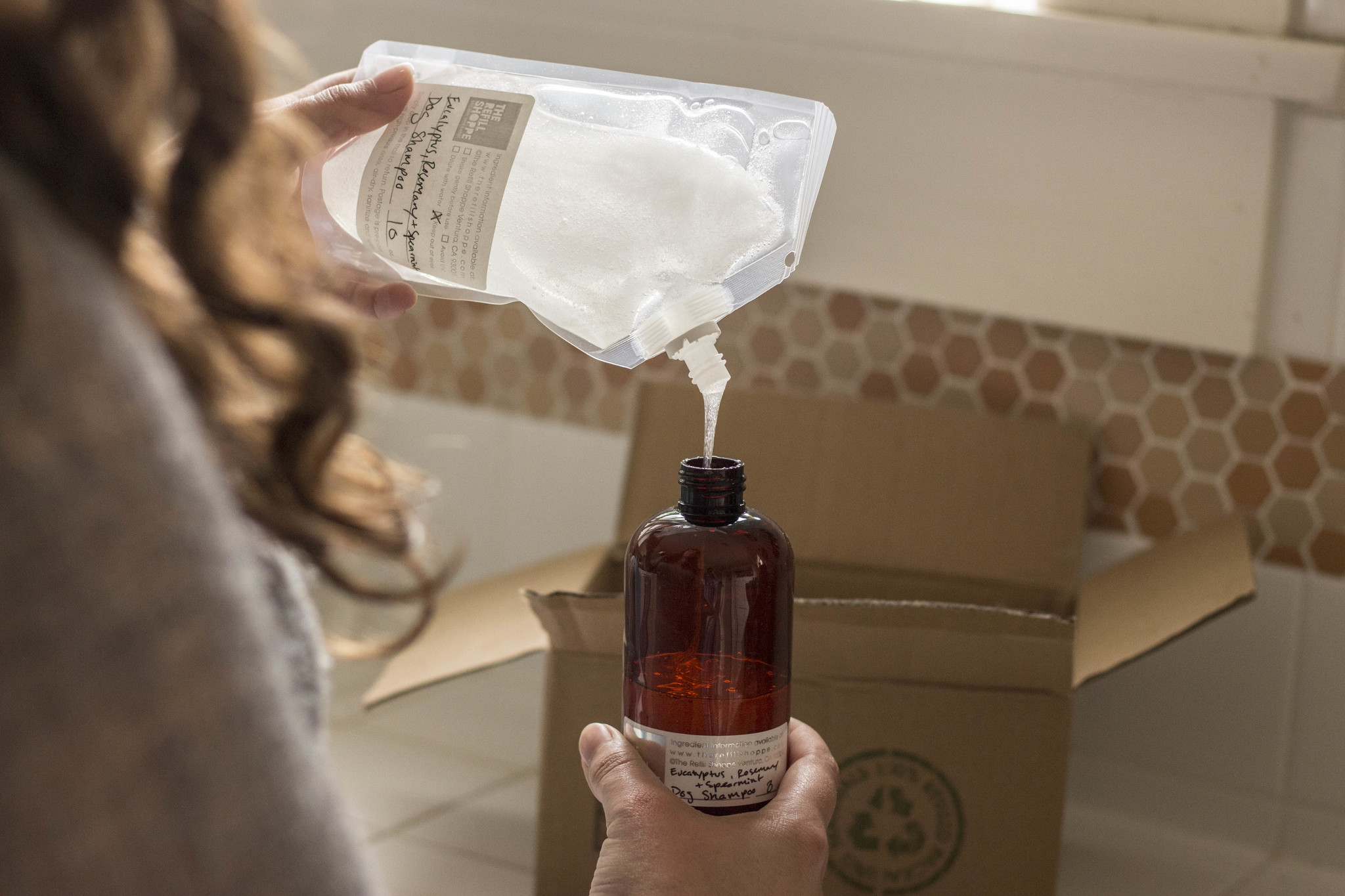 Our Mission
We believe in love, gratitude and doing the right thing.
We share with you what we like to use and make everyday necessities extra special, just like you!
We do what we do because hot bubble baths, clean people, lovely smells, smiles on faces and a little less plastic in the world makes us so very happy.